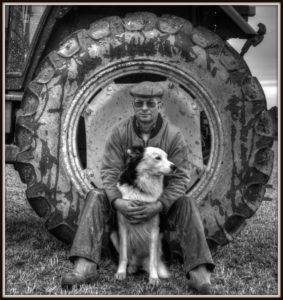 The farm is small by modern standards 50ha (125 acres) we are a livestock farm and we make hay and haylage in the summer to feed our animals in the winter.
Our livestock consists of Aberdeen Angus cattle which Thomas has been breeding for  more than 20 years. They are the local breed originally from the other side of Alford, about 7 miles from Boghead, we currently have one bull, called 'President', and 18 cows and their calves.
We also breed British Vendeen sheep, they were imported from France in the early 1980's although originally their ancestors came from the English Southdown. Thomas has been breeding sheep on the family farm in Gloucestershire since he was 16 years old and has had pedigree British Vendeen sheep for over 30 years.
We lamb the pedigree sheep in February and the commercial flock in mid March to mid April. If you would like to experience lambing then we can offer week or weekend lambing holidays.
The farming system is fairly extensive with only a minimal amount of fertiliser used on the grassland. We also grow an area of root crops for winter feed for the sheep and 1 acre of seed crop to help feed the birds during the winter months.
The woodland some of which has been in for 17 years and the two smaller bits which were planted 4 years ago are a haven for wildlife with deer, badgers, hares, rabbits, frogs, toads and many species of birds including ducks and greylag geese. We are also working on a project to plant some new hedges and some more trees around the farm in odd courners.
We are always happy to show people around the farm.